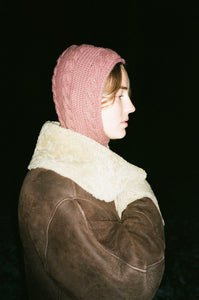 Deima CABLE hoodie
Onesize, made with 100% cashmere yarn
The cashmere hoodie, is our classic hoodie's more elegant and classy sister. Made with luxurious pure cashmere yarn, that guarantees you'll feel soft and warm all throughout the winter.
Wear it up when on your bike, taking your daily walks with a stroller or your dog, and take it down when you're inside shopping or on the warmer days, when you just want to keep your neck warm. this will honestly be your next obsession. 
Order info - this hoodie is in stock and is ready to ship within 1-2 business days
All handmade, knitted in Denmark.
Care – learn more about how to take care of your deima item here....