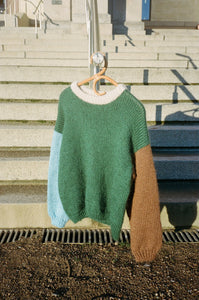 Deima EVERYDAY sweater
Size 1 
70% merino & 30% alpaca
Melange version is 100% alpaca
This item is in stock, and ready to ship out within 1-2 business days.Fit 
The sweater has an oversized body, with dropped sleeves, that looks flattering on any body type. It has a fitted tubular neck trim, and the most soft yarn base. All in all the perfect fit for an everyday sweater.
Sizes
1 = S/M

All handmade, knitted in denmark.

Care – learn more about how to take care of your Deima item here....