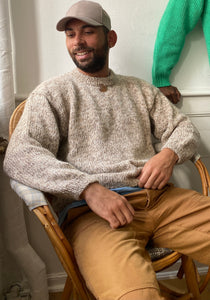 Deima EVERYDAY sweater
Size 1 & 2
70% merino & 30% alpaca

Fit The sweater has an oversized body, with dropped sleeves, that looks flattering on any body type. It has a fitted tubular neck trim, and the most soft yarn base. All in all the perfect fit for an everyday sweater.

Order info This item has a production time of 4-5 weeks. Production time can vary, depending on how many orders are being processed. If there's a longer wait than usual, you will be notified.

This style can be made in many different color combinations, or simply just in one color if that's your preference. To order a sweater in hand dyed yarn, click here to send a message, if you'd like to pick your own colors.

All handmade, knitted in denmark.

Care – learn more about how to take care of your deima item here....