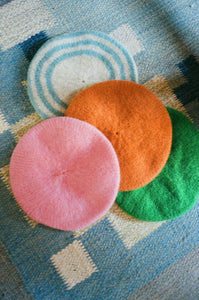 Deima HOTTIE beret
100% wool
The forever chic and classic beret hat, in natural wool, and of course in a variety of great colors - the Deima way!
This item is hand knit, and afterwards felted, which make the wool quality soft and firm, just perfect for this hat style.
These items are in stock, ready to ship within 1-2 business days.
Onesize fits all. The trim is a bit tight in the beginning, but it will stretch to fit your head size perfectly.