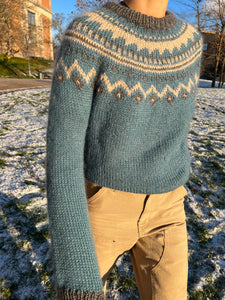 Deima woolen yoke 
Size 2
wool and silk/mohair

This item is in stock, ready to ship out within 1-2 business days. 
Our best selling yoke sweater, in a classic wool and silk/mohair combination. 
It's our very own yoke design, that will be a forever classic. We make new color combinations, yarn bases whenever inspiration hits us, but this is really the perfect sweater to be treasured for many years.
Fit
the yoke fits easily over any bodytype, wide or narrow
tubular trim to keep your neck warm
oversized body, regular sleeve width
possible to do custom lengths
All handmade, knitted in Denmark.


Sizing 
Size 1: fits a size small/medium - 36/38
Size 2: fits a size medium/large - 38/42
Care – learn more about how to care for your deima item here.....