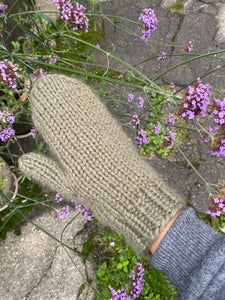 A pair of completely classic warm winter mittens, knit in chunky but buttery soft wool/alpaca yarn, held together with a strand of silk/mohair - the perfect combination of warm, soft and fluffy.
They're knit from the bottom and up, and they come in 2 sizes, and you can regulate the length of the mittens yourself, if that's your preference. They're super beginners friendly and could easily be one of the first knitting projects. 
With deima's turtleneck collar you have the perfect set of winter accessories that can be make all in a weekends time. The ideal hand made gift!
Yarn: 1 strand of 'Betty' from Permin and 1 strand of 'Tynn Silk Mohair' from Sandnes (shown in color 889406 'Betty and' moss green 9554 'TSM')
Gauge: 12 stitches x 17 needles in stockinette st = 10 cm x 10 cm on needle 8
Needle sizes: round needle 7mm (80 cm) and needle 8mm (80 cm) for magic loop, or double pointed needles 7mm and 8mm.
Sizes: 1 (2)
Measurements: 9 (11 cm) width is measured in the upper part of the mitten, over the 4 fingers. Remember there must be a little extra space.
Yarn total: 2 skeins of 'Betty' and 1 skein 'Tynn silk mohair'
The pattern is digital, and will be sent as a pdf-file to your e-mail address. 
Happy knitting!